A logo in its true sense means a graphic mark,emblem or symbol.So how important is a logo to curve a niche for your brand, well the answer is very. Now the question is what is the need and importance to have a corporate logo? A logo creates an association with the brand.It represents the core values of the organization and is an identifier of  the organization.
 A nice idea based logo can separate your brand from the other competitors.So the question is how do you come up with such a logo which represents your brand to the core yet keeps the modern aesthetics intact. Well, there are two methods of doing that,one you have a full picture of the logo in your mind and need some minor help from the designer. Secondly, you have got a vague idea, in that case, you need to trust the designer and that is where we are to help you.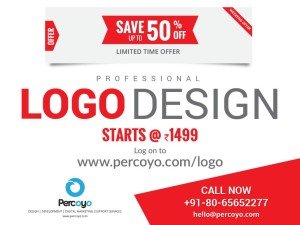 Percoyo Group has launched a new exciting range of logo designing plans.Have a look here.
The process works like this:-
1. You have to select any one of the three plans namely Standard,Premium(our preference) and Ultimate
2.Give a brief explanation about your requirement like your business field,target customers,preferred colors and a rough sketch or image of a preferred style.
3.Make payment as per the plan.
4.Finalize the logo once the designer completes it in scheduled date,the logo will be sent to you in TIFF,PDF,JPG,PNG and EPS format.
Have a look at our portfolio and here are some testimonials from our happy clients:-
1. "I wanted to hire an agency that will give me best results in an affordable price. Percoyo was the solution. I wasn't sure which direction to go as I had a vague idea, they were extremely patient and listened to the ideas and direction that I wanted to go. I recommend Percoyo highly and I will definitely be hiring them for future projects.You will not regret investing in Percoyo" -Akhil,Reesh

2. "Percoyo is a pleasure to work with.They are courteous,reliable and a great communicator.Their creative process is awesome as they work as a team to come up with the final product. I truly endorse and recommend Percoyo" – Piyush,Fataak
So what are you waiting for. Start your business if you have not or increase your business if you already have one with an awesome logo.