Importance of PPC in your marketing strategy!
In this present Digital marketing era, PPC has proven its worth of being a successful platform in online advertising Industry. Pay Per Click has rapidly evolved as a most powerful digital marketing technique as it has the power to generate instant leads and traffic.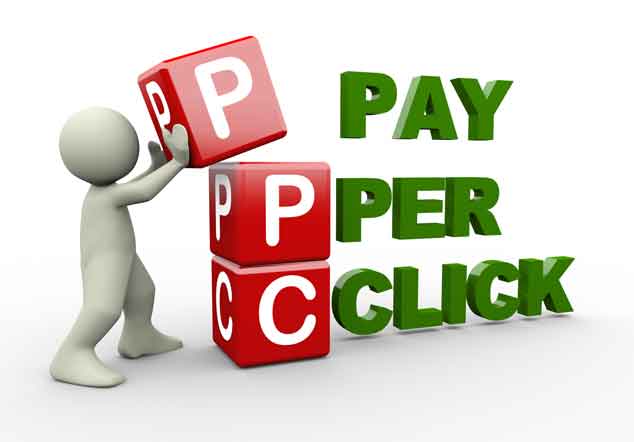 What is PPC?
PPC Stands for (Pay Per Click) and it is also known as CPC (Cost Per Click) which is a form of internet advertising model used to direct traffic to websites, increase the number of leads in the form of phone calls and direct walk-ins. In this form of internet advertising, an advertiser pays a publisher when an ad is clicked on the search engine.
"Publisher" refers to the activity of making information available to the general public.
"Advertiser" refers to a person, organization or company that places advertisements in order to target customers.
Advantages Of PPC:
Pay for only clicks.
Budget control.
Targeted Ads
.Immediate and Consistent traffic.
Quicker results.
A higher ROI.
PPC benefits in improving your SEO strategy.
Types of PPC Ads?
Search Engine Text Ad.
Social Media Ads(Facebook, Twitter, LinkedIn, Quora, Instagram etc).
Shopping Ads.
Display Ads.
Remarketing / Retargeting Ads.
Gmail Ads.
Video Ads (Youtube, etc).
Which Ads are popular in PPC Advertising?
Google Ads are most trending and popular in PPC Advertising earlier known as Google AdWords. Google AdWords is one of the most popular Pay Per Click advertising systems in the world which is created by "Google". This Google ads platform enables each and every business to create the ads that appear on the Google's Search engine and other Google properties.
Google Ads run on a pay per click model, in which the user sets a maximum bid on their keywords and pay for each click on their advertisements. Every time when a search is done by the user, Google looks into the pool of advertisers ads and chooses a set of winners to list in the valuable ad space on its search engine.
What is Google AdWords Auction? What does it do?
The process that happens with each Google search to decide which ads will appear for that specific search and in which order those ads will show on the page. Every time an ad is eligible to appear for a search, it goes through the ad auction.
When you actually search on the Google Web, you are not searching on the web. You are searching on the Google index using a software programme called spider. When you search for a keyword Those spiders start crawling all the web pages where the search term is used. Then they group some of the web pages/landing pages where there is a keyword used more no of times. And they check whether this page is perfect for this keyword or not, they check the PageRank, outbound links of the webpage. the weather this webpage is from a good website, etc. Then Google starts showing the relevant Ads on the search engine which are suitable for the particular keyword.
How Does PPC Campaign Work?
There must be Campaign created for each and every Ad group in every platform. In a PPC campaign, an Advertiser will pay search engines the amount as he wishes, to have them in the top position of search engine result page(SERP). When a user searches for a keyword and your Ad is listed on the top. Then he clicks on your Ad and the amount of one click is been deducted from the daily/monthly budget. Once all the budget will be depleted, Google or other search engines cease your ads until u pay the total budget of your account.
Eg: When a user searches for a keyword in the Google Search Engine "AdWords Management Company In Bangalore".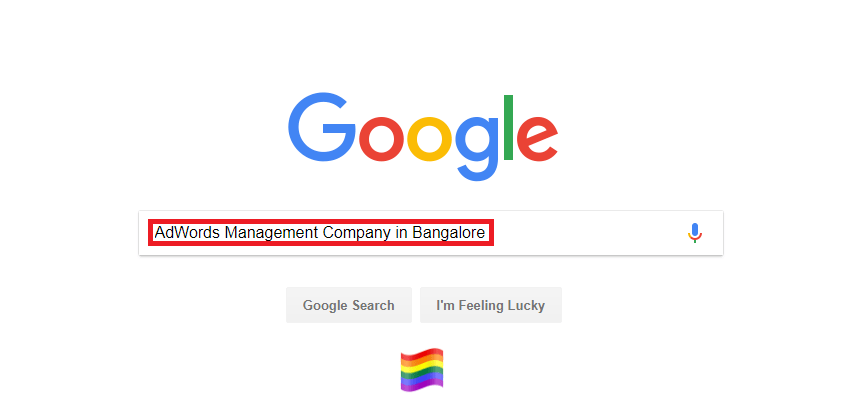 The Search engines will show the results for this particular keyword. When the results appear on the search engine, the first few listings will be the PPC Ads listing in which you need to pay to be listed as Ads.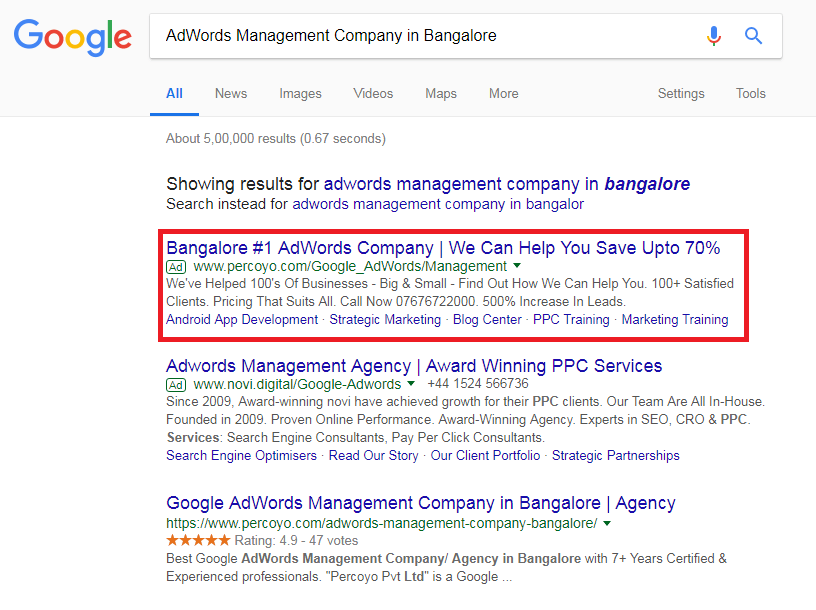 When a user clicks on the highlighted part which is known as Google Ads. The amount of one click will be automatically deducted from the total budget.
The Benefits Of A PPC Campaign:
Pay Per Click Campaign can benefit any type of business in various different ways and are a great way to compliment your other marketing efforts.
Some of the benefits of PPC Campaigns are:
Measurable Results.
Fast Results.
Won't depend on SEO.
Will reach the right audience.
Brand Recognition.
Open your doors to local customers.
Budget Friendly.
Rich Functionality.
Report generation.
Quality leads.
Targeted traffic.
When Should You Use PPC Marketing?
In this trending scenario, PPC marketing is a good fit for all types of business. It's better to use PPC for all small and big businesses to create the brand awareness among the customers who are in search of your products. When you are capable to spend your money on the basis of Daily / Monthly budget to your ads, then you can start PPC advertising to your business tieing up with  n the best PPC company in Bangalore.
When Should You not use PPC Marketing?
Commonly PPC is not a good opinion when you have no marketing budgets to afford for the cost of running pay-per-click campaigns and if you don't have the knowledge about the PPC campaigns correctly, It's waste of money and waste of time. Running Ads campaigns on AdWords and Facebook is not difficult, but if you are not sure how they work and how to optimize the ads to get maximum ROI, you will end up your business with a loss instead of making a profit through PPC.
Why is PPC an Essential Part of Online Marketing Strategy?
PPC is an essential tool for businesses looking for success and is a strategy that should not be overlooked in favor of SEO and social media marketing. While these can be effective ways to market your business when used as part of a larger strategy, there's no denying that PPC is becoming more prominent and can no longer be ignored if you're looking to generate more leads, sales, and traffic.
The PPC platform changes periodically, with changes taking place to report, metrics, adaptations of ad units, new ways to target audiences and even changes to how we bid. These changes allow businesses and marketers to adapt their campaigns in line with the ongoing shift in how audiences are searching online.
How to Manage PPC Campaigns?
Once you create your campaign for your business, you'll need to manage them on a regular basis to make sure they continue to be effective and they are working in proper condition. In fact, when you are a regular active user, account activity is one of the best predictors of account success. You are required to continuously inspect the performance of your account and make the following adjustments to optimize your account campaigns.
Below are few account management metrics to be followed in Google PPC campaigns, few of them may relate to other platforms as well but most of the platforms use universal metrics like avg.cpc, CTR, Impressions etc.
Add keywords.
Add negative keywords.
Split Ad-groups.
Review costly PPC keywords.
Refine landing pages.
Write new & better performing ads.
Make use of Automated Rules and Scripts.
Display placements – gender, placement & age
Bid Adjustments for Regions/country/city – Hour – Device
Quality score.
Opportunities and warning.
Check for available balance or billing details.
Results Of PPC Advertising:
When you do an online PPC marketing for your business, it reaches to the right and targeted audience and creates brand awareness about the product, services, etc, only if you target the right audience your business may witness an increase in sales or else you will be just spending on your ads and there will be no positive results and there will be no result in Return On Investment.
Competition in PPC Advertising:
In this digital era, there is a lot of competition in each and every field of business. When anyone is growing in the market no one will support him to grow, instead, they will pull them down. So when you have a high competition for your business you are required to follow all the online marketing strategies to fight against the competitors. The competitors won't let you survive in the market if you don't put many efforts into the PPC. Everyone can't do the online marketing (PPC), There must be the knowledgeable experts to handle the campaigns, Ad-groups, etc. Many agencies like "percoyo" will provide you with the best PPC services. When you are on the top position on the Ads, the other competitor may do "click fraud" to burn your daily budgets.
Now, What is the Click Fraud?
Click fraud refers to the clicks which are been clicked on your Ads on search engines by the competitors. When the competitors click repeatedly on your Ads your Ads budget keeps on decreasing and you will be under loss by not getting the expected leads or sales.
How To prevent Click Fraud?
There is none other option than finding the IP Address of the repeated clicks which are coming from the competitors and blocking them so that you won't get any click fraud from those IP Addresses.
How To find the IP Addresses?
We suggest you "Click Helmet" the best software for Click Fraud detection and protection. This software helps you in detecting the IP Addresses and helps you in blocking the Invalid IP's which are from the competitors to bring your Ad positions down. Click helmet helps you in saving your money against click fraud.
Conclusion:
PPC Marketing is the better way to increase your business online through Ads in the short period of time. When you have knowledge about it, you can target the right audience in various platforms like search engines, social media platforms, etc. If you don't have much knowledge about PPC and you start paying money to search engines to show ads and u don't know how to target audience, etc. It's the same as filling the water in the bottle which has plenty of holes. You will just be spending the budget on Ads and you won't get results. You need an expert in each and every field so that he guides a correct path to do, where to target the right audience and he will be having the knowledge about saving the money, getting more no. of leads at lower cost, etc.