Content Marketing
One would argue about the latest trends in Digital Marketing in the year 2016 but they can't deny that Content Marketing will be the trend for many years to come. Here, I'm going to tell you different Content Marketing strategies to make you a better content writer.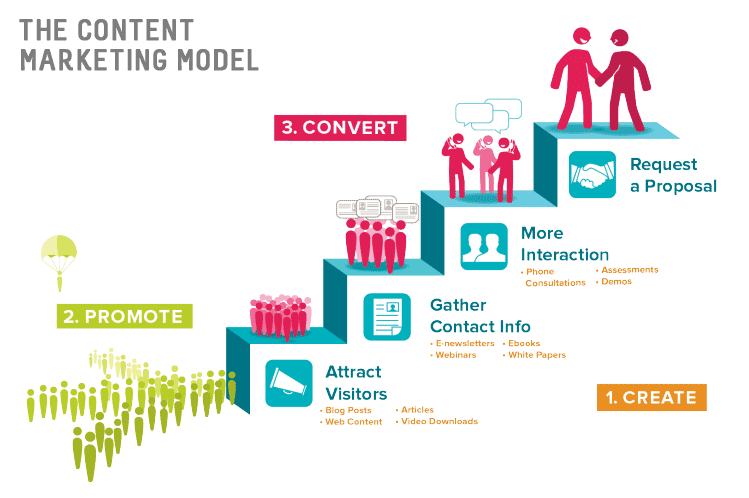 I'm sure you have heard a lot about content marketing and also that it helps you gain more customers. But have you ever wondered how exactly your content helps you in doing that?

Well, let me break that down for you.
First of all, let me start by telling What is Content Marketing.
Content Marketing is a strategic marketing method focused on creating and distributing valuable information to users who are interested in it.
You might be asking this to yourself : How am i supposed to know which person is interested in my content? That's where keywords come in.
Keywords are a set of words which describes the content of your web page. It is like the summary of your website in 3 to 4 words, tops.
Keywords play a significant role in SEO (Search Engine Optimisation) which helps in bringing your website on the top of the Google Search Results when someone searches for your targeted keywords on Google.

So, Coming back to content marketing, It is very helpful in all marketing aspects , as Marketing is impossible without great content. Here are 5 important tips to ensure that you write a good content :
Use relevant keywords in your content that summarize the whole idea of your blog in as little words as possible.

Don't overdo the keywords. Using the keywords in 4-5% of your article is recommended. But if you use the keywords way over limit, your blog will be considered as a spam by the algorithms which do spamdexing(Checking the content for spam).

Nobody really cares if you are from Harvard or Oxford. Write your content in a language which is understandable by anyone. And by anyone, I mean, even a kid in 1st grade.

Always prioritize valuable and relevant content rather than writing down anything that comes to your mind. Otherwise, you will be that marketing person to your readers who just sells them "Stuff".

Always research before writing. Researching is very important before writing down content, since what you have in mind might be already there on the internet. And the probability of that is 90% of the times. Don't get me wrong, There is no harm in that. But make sure you avoid copying down the same thing as it is not the right marketing ethic.
That's it for now. Stay tuned for more blogs.